History
Feb 1949

Founded in Yokohama, Japan.

Nov 1952

Appointed as exclusive coastal tanker service provider for Fuji Kosan Co., Ltd.

Nov 1956

Opened a branch office in Kainan-City to follow the opening of Fuji Kosan's new oil refinery in Kainan-City.

Jul 1964

Opened a branch office in Osaka-City.

May 1965

Concluded a contract with Asia Oil Co., Ltd.

Feb 1966

Expanded our business into international shipping services, providing transportation primarily for lubricants and molasses.

May 1966

Opened an office in Nagata-Cho, Chiyoda-Ku, Tokyo. Shifted our main business resources to the office.

Aug 1966

Concluded a contract with Toa Nenryo Kogyo Co., Ltd.

Nov 1966

Concluded a contract with Kyodo Oil Co., Ltd.

Dec 1966

Concluded contracts with Esso Standard Oil Co., Ltd. and Mobil Corporation.

1979

The number of coastal tankers was increased to 58. The Company's market share in shipping clean petroleum products (e.g. gasoline) grows.

Jul 1982

Built methanol tanker, "Senyo Glory".

Oct 1987

Purchased oil terminal from Fuji Kosan and commenced operations as "Koyo Kaiun Chiba Oil Terminal".

Apr 1996

Established subsidiary company, "Koyo Kaiun Asia Pte Ltd" in Singapore and established a chemical tanker service intra South East Asia.

Oct 1996

Moved Head Office to Roppongi, Minato-Ku, Tokyo.

Jan 2004

Built methanol tanker "Sabrewing" (49,323 deadweight tons) which was chartered to newly established, Waterfront Shipping in Canada.

Apr 2007

Our ship management company in Singapore "Green Wave Shipping Pte Ltd" started their business.

Feb 2009

60 Year Anniversary since foundation.

Mar 2009

Withdrew our coastal shipping service in accordance with our forecast of decreased demand within Japan and devoted Company resources to our international shipping service.

May 2009

Vessels operated by Koyo Kaiun Asia became 12 vessels. Total in group became 18 vessels.

Jun 2009

Moved Head Office to Arc Yagi Hills in Roppongi, Minato-Ku, Tokyo.

2010

Established "Koyo Kaiun USA LLC" in Houston, USA and began new Deep Sea Trade.

Apr 2011

Moved Head Office to No.2 AB Building in Roppongi, Minato-Ku, Tokyo.

2017

Chartered 33,000 deadweight ton vessels into the Deep Sea Trade which began with 19,000 deadweight ton vessels.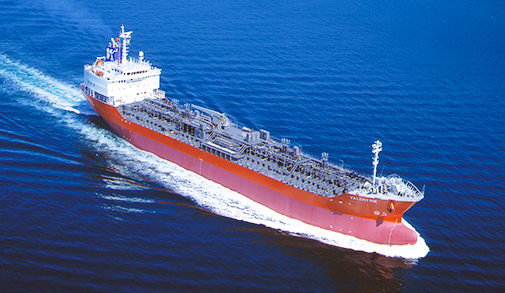 From Domestic Product Tanker Operator
Koyo Kaiun is an independent and widely known shipping company in Japan established in 1949. Oil was emerging and replacing coal as the major energy source in those days, and the company aspired to be an independent domestic coastal tanker operator. During the rapid economic expansion of 1960's and 1970's the company had grown to be among the top domestic coastal tanker operators.
However, following the Japan's so-called ""lost decade"" Koyo Kaiun shut down its domestic coastal tanker division in March 2009. This has allowed it to concentrate its resources to growing international chemical tanker business, which it launched in 1966.

To International Chemical Tanker Operator
In 1966 Koyo Kaiun sent some of its coastal tankers abroad for the first time to carry lubricating oils from Japan to Taiwan and molasses on the way back. The decision to send its coastal tankers abroad was an attempt to solve a long-standing problem of coping with a seasonal slump in demand for the coastal tankers in summer. In 1969, the company began near sea chemical trades, expanding its trading area gradually. In 1974, vegetable oils were added to the list of cargoes the company handled, and the chemical tanker fleet, dedicated to international transportation, was created.
In 1996, Koyo Kaiun Asia Pte Ltd was established as a wholly owned subsidiary in Singapore to cater to the growing needs for chemical tanker services within South East Asia. From 1996 till 2010 Koyo Kaiun had two fleets; Tokyo fleet for Far East – South East Asia trade and Singapore fleet for Intra South East Asia trade.
In 2010, Koyo Kaiun Asia launched a new Deep Sea trade in order to meet customers' worldwide demand for Koyo's services. In November of that year, Koyo Kaiun USA was established in Houston, Texas for chartering purposes.
Today, Koyo Kaiun focuses on both the Intra South East Asia and Deep Sea trades.
Other topics
For business diversification, we are renting two asphalt tanks and factory built on the company's owned land. Koyo also purchased their own office building in 2010 located in Azabu-Juban,Tokyo and is presently renting office space to other businesses.